Cream Chrysler
Type of car: Chauffeur-driven Chrysler hire
Description: Cream-coloured luxury Chrysler limousine for hire
Our Chrysler 300C is ideal for: school proms; weddings; clients looking for Bentley-style appearances for a competitive budget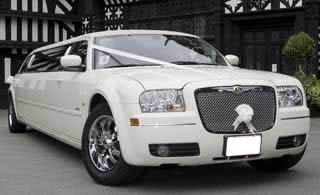 Chrysler's 300C model is sometimes referred to as a 'Baby Bentley' and with the distinctive chrome grille, large alloy wheels and uncompromising profile its easy to see why. The interior offers space and luxury and a range of features intended to deliver a comfortable journey whatever the occasion. The 300C includes sumptuous leather seating with attention to detail on all aspects of the interior. Decorative ribbons can be attached to the front of the car should you select this limousine as part of your wedding transport.
Chrysler limousine features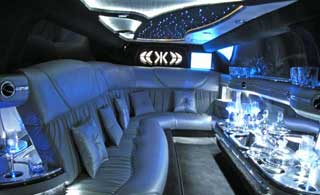 DVD player
Audio system
Fully equipped bar
Twinkle lights
TV screens
Super comfort leather seating
Neon lighting
Strobes and mood lighting.
Air conditioning
Driver-passenger divider screen
A 'nightclub on wheels' party atmosphere
Clients can enjoy big savings when booking more than one car per occasion or as part of a multi-event booking (e.g: hen night and wedding). Find out more about our rates and packages tailored to your occasion by contacting Lucid Limos via the quote form or by calling us on 01204 522 422.